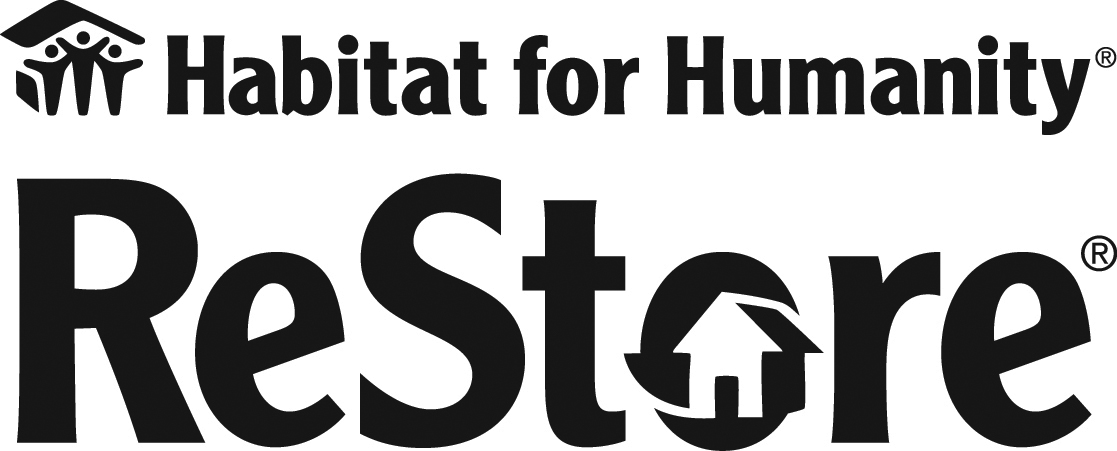 Donation Guidelines
Thank you for thinking of the Fort Collins
Habitat for Humanity ReStore! 
We are a fundraising enterprise for Fort Collins Habitat for Humanity.  Our primary mission is to create affordable homeownership opportunities in partnership with                      hard-working individuals and families within our community.
 Please understand that we reserve the right to refuse any items that we deem unsafe or unsellable.
 The following information is meant to serve as a general guide for donors. Acceptable items are subject to change due to current inventory and space limitations. It is recommended that donors call before bringing their items to donate.
If you have questions about making a donation or to schedule a pick‐up, please contact Cindy Armitage, Donations Coordinator, by e‐mail at donations@habitatstore.org                                       
or by phone at 970-488-2703.
Acceptable Donations
APPLIANCES – Must be clean, complete, and in working order
Appliances must have all knobs, trays, burners, shelves, mounting hardware, etc
Small Appliances accepted: coffee makers, blenders, toasters, etc.
Refrigerators and freezers must be working and require a $25 fee at drop off
Water heaters, dishwashers, and other water-related appliances must be less than three years old with manufacturer EPA compliance data provided
We do not accept: built‐in ovens, gas dryers, over stove microwaves or older range hoods
There is a $25 fee for any appliance pickup (Up to 4 appliances)
FURNITURE – We accept most furniture items
All furniture must be free of rips, tears, cracks, stains, pet damage, smoke odor, and general wear spots
Must be in good condition overall and need no repair
Bedroom Furniture
Acceptable donations include: bedframes, lamps, dressers, side tables, cedar or wood chests, etc.
Bedframes must be in good condition overall and need no repair
We do not accept: cribs or bassinets, detached/single dresser drawers, waterbeds, bookcase headboards, hospital beds, water beds, or box springs & mattresses
Dining Room
Donations may include tables, chairs, china cabinets,
        Living Room
Donations may include lamps, bookshelves, couches/sofas, loveseats, sectionals, chairs, entertainment centers, etc.

We are unable to accept donations of pianos of any size

 
Baby Furniture
State law does not allow us to accept:

car seats, cribs or bassinets
Changing tables without moving parts are acceptable
Office
We do not accept commercial desks, office chairs or file cabinets
We are unable to accept desks larger than five feet wide
CABINETS & COUNTERTOPS 
Must include all drawers
Must be free of rot and in usable condition
We do not accept: cabinet drawers by themselves
DOORS   
Exterior and interior doors accepted
Must be in good condition
Must not have rot, cracks or separation
Sliding glass doors must be NEW
Hollow‐core doors accepted on an as-needed basis (call first)
ELECTRONICS & ELECTRICAL FIXTURES 
We accept flat‐screen televisions, coffee makers, toaster ovens, space heaters, house fans, air conditioners, CD and DVD players
We accept electrical parts, lights, wire and hardware associated with electrical wiring
We accept working light fixtures on a case‐by‐case basis
We accept modern light fixtures that are clean and without rust
We do not accept: florescent light fixtures or bulbs, CFL bulbs, cannister lights, track lights, CRT TVs, TV consoles, TVs without a remote, large screen box TVs, computers or printers
HARDWARE 
We accept hardware for doors, cabinets, lumber etc.
Must be in good condition and with no rust or sun damage.
Must be separated by type and style 
LUMBER, PLYWOOD, SIDING, TRIM 
We accept only half sheets or larger of plywood
Lumber must be in lengths of six feet or longer
Trim must be in lengths of seven feet or longer
Must be free of rot, nails, and screws
We accept only full rolls of insulation in the packaging
We do not accept: loose fiberglass insulation or drywall
PLUMBING & FIXTURES 
We accept all new and unused copper, PVC & ABS fittings
We only accept WHITE tubs, toilets, and sinks.
All fixtures must comply with current lead-free standards and must be labeled accordingly (Meaning 4 years or newer)
      Bathtubs 
We only accept new bathtubs and claw‐foot style bathtubs on an as-needed basis (call first)
Must be clean no chips or rust stains
We do not accept: Jacuzzis, jetted tubs or whirlpool tubs, cast iron tubs (unless claw-foot at manager's discretion)
      Faucets 
All faucets must be 2014 or newer with manufacturer EPA compliance data provided
Must include all parts/components
Toilets 
We accept toilet seasonally (not during winter months)
Toilets must be complete and clean with no chips or cracks
Toilets must include a link for the tank
We only accept low‐flow toilets — 1.6 gallons per flush (gpf) or lower
We do not accept: toilets with a gpf higher than 1.6 or different colored toilets (white or bisque only)
ROOFING 
Most donations of roofing materials are accepted on a case‐by‐case basis, please call ahead
Shingles must be in complete packages
Metal roofing should be in full lengths
FLOORING AND TILE 
We accept vinyl and ceramic tile, unused and clean
Wood flooring must be clean and free of nails or new
Tile donations must be at least two boxes of matching tile
We do not accept: rugs, carpeting or carpet remnants
WINDOWS 
We accept double‐pane vinyl windows complete with window sashes

Ask about donating appropriate window hardware

We do not accept: single-pane windows, windows without frames, wood or aluminum windows 

 
CLOTHING & FASHION ACCESSORIES 
Clothing and other cloth items are accepted and must be bagged. Please note that we do not sell these items to the public. We are fortunate to have a community partnership with USAgain Clothes Collection System and therefore we can accept your unused and unwanted clothing, shoes, fashion accessories as well as household linens
We do not accept: Dishes, pots and pans, kitchen items, and miscellaneous household items
SPORTING GOODS 
We accept some sporting goods including bicycles, golf clubs and bags, and skis/snowboards.
Camping/fishing gear is accepted on a case by case basis
We do not accept: ski or snow boots, exercise equipment of any kind, or any helmets 

 
DECOR 
Décor items are accepted on a case by case basis and include decorating items like framed art, quilt racks, mirrors, lamps, etc
We do not accept: any kind of window treatment, i.e. blinds, shades or curtains, or smaller décor items
VEHICLES –Cars, Trucks, Vans, and Motorcycles 
If you are interested in donating a vehicle or have questions about available vehicles for purchase, please contact Vehicle Department Manager by e‐mail at autosales@habitatstore.org                                  or by phone 970.488.2702
    All Cars: 
Must have a clear title
We prefer that the vehicles are brought to the store. We'll give you a ride home!
Must be in running condition or necessary repairs must be under $500
(If you're not sure about the cost of your repairs give us a call first!)  
ITEMS WE NEVER TAKE 
We cannot take mattresses and box springs (you can recycle them at Springback)
Blinds
Plates of glass
Paint, primer, and stain
Any household or construction chemicals
Printers, scanners, fax machines, computers, box or tube TVs
Drywall
Exercise equipment
Thanks for helping us build houses by donating at: