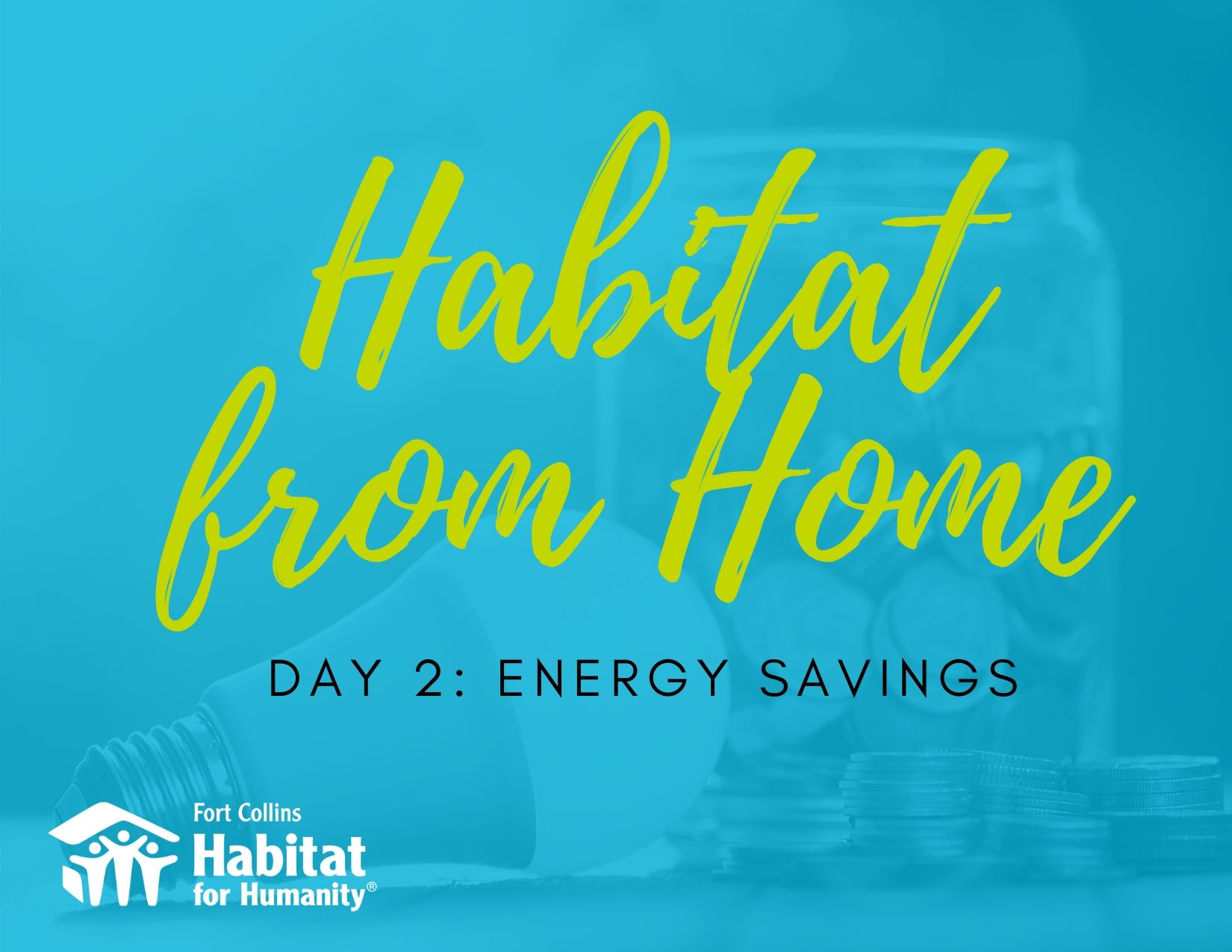 Energy Savings Activity:
Hello! Welcome to our "Habitat from Home" project series, where we offer fun and family-friendly ways to connect children to the mission of Fort Collins Habitat for Humanity. Today's project shows how energy plays a role in your daily life, and how a few simple changes can help your family to reduce your energy use (and maybe save some money on your utility bills!)
Age Recommendation: Appropriate for all ages! Difficulty can be adapted if necessary.
Love this project? We'd love to see your photos and finished products! Please connect with us on Facebook, or email them to Alex for a chance to be featured on our social media or website. 
Project Directions: 
Here at Habitat, we are passionate about affordable housing. But many people do not realize that housing affordability goes beyond just bricks and sticks–utility costs can play a huge role in making sure that families can afford a place to live.
Before you begin, think about the ways that you use energy every day. 

Tip: Think about going through your morning routine from the moment you wake up. Or, you can act out your routine with younger students!

What wakes you up? Alarm clock, plugged-in cell phone, etc.
What do you need to get ready? Lights on, water for brushing teeth, shower, etc.
What do you need to eat breakfast? Fridge, toaster, microwave, stove, etc.
How do you get to where you are going? Car, bus, etc.
What do you need at school? Lights, laptop, projector, etc.
What do you do when you get home before bed? TV, laundry, make dinner, etc.

If you don't already know, here are some ways that we can get energy including wood, coal, and gasoline.

What's the difference between renewable and nonrenewable energy? Which does your family use most often?

What are some easy ways to reduce how much energy we are using or wasting each day?

Print off and illustrate the energy savings flashcards (link below) for some ideas.
You can tape the flashcards around your house (ex: next to light switches) to remind you of ways to save!

Bonus activity for older students: Parents/Guardians can review the last three months of utility bills with their kids. Do you anticipate changes will affect the bills in the future? What are some extra ways that we can be mindful about energy use when there are more of us at home during the day?
Additional resources: Because we care about energy savings in our Habitat neighborhoods, we have solar-powered homes at our Harmony Cottages neighborhood. You can learn more about going solar from our partners at Namaste Solar.
Online Resources:
We've collected some resources to help with your energy-savings project. Check them out!