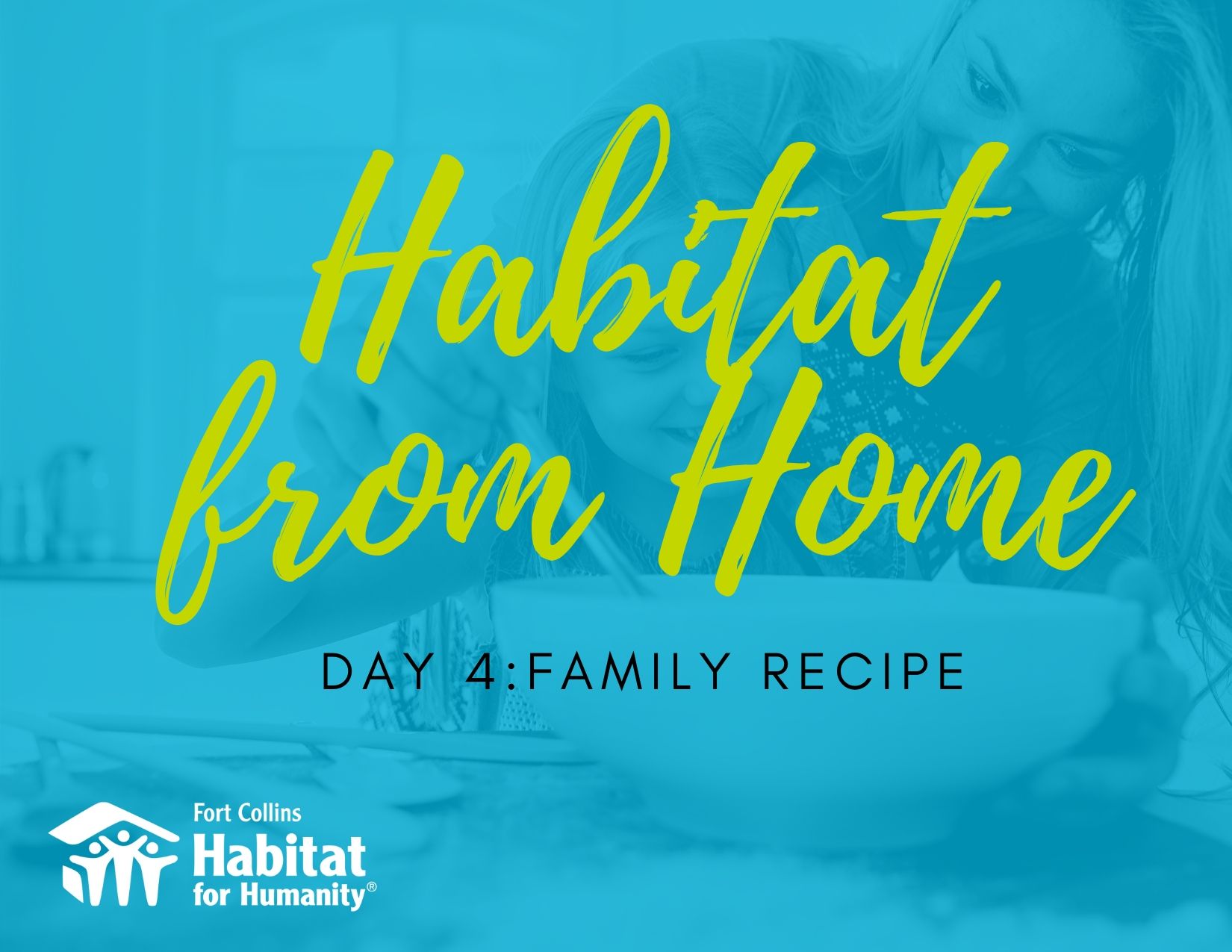 Family Recipe Activity: Hello! Welcome to our "Habitat from Home" project series, where we offer fun and family-friendly ways to connect children to the mission of Fort Collins Habitat for Humanity. Today's project will focus on what makes a family unique, particularly as it involves food.
Age Recommendation: Appropriate for all ages! Difficulty can be adapted if necessary.
Love this project? We'd love to see your photos and finished products! Please connect with us on Facebook, or email them to Alex for a chance to be featured on our social media or website. 
Project Directions:  Is there a special food or recipe that your family really loves? Today, we're going to talk about what makes your family unique when it comes to meals. Maybe it's a recipe that has been passed down for generations. Maybe it reveals a little bit about your heritage, or where you come from. Or maybe it's just something delicious, that brings you together around the table. Whatever it is, let's get to cooking!
Pre-Question: Does your family have a cherished recipe that you love to make? If so, what makes it special:

 

Does it represent your heritage? How?

 

Does it come from a special person? What makes them special?

 

Does it only get used for special occasions, like holidays or birthdays? If so, what was your favorite memory of that special occasion?

You can share your story and the recipe using this recipe story card printable.  

 

Share your recipe and story with Fort Collins Habitat by commenting on our 

facebook

 page with the ingredients and directions. If there are other recipes posted, would you like to try them?
If you have the ingredients available, work as a family to make the recipe for your next meal. If you don't have the ingredients, see what you DO have. Is there a new recipe you can try with what you have on hand? Use this recipe builder if you need help. 
Reflections:

How does this meal make you feel at home?
How do you think sharing a meal helps your family stay connected?
What things, in addition to this recipe, make your family unique?
Additional resources: Did you know that one of Habitat's biggest advocate is former President Jimmy Carter? Born and raised as a peanut farmer, there is a whole recipe devoted to him– the Jimmy Carter Dessert, which is fit to feed a Habitat for Humanity volunteer crew! You can learn more about President Carter's ties to Habitat by clicking here.