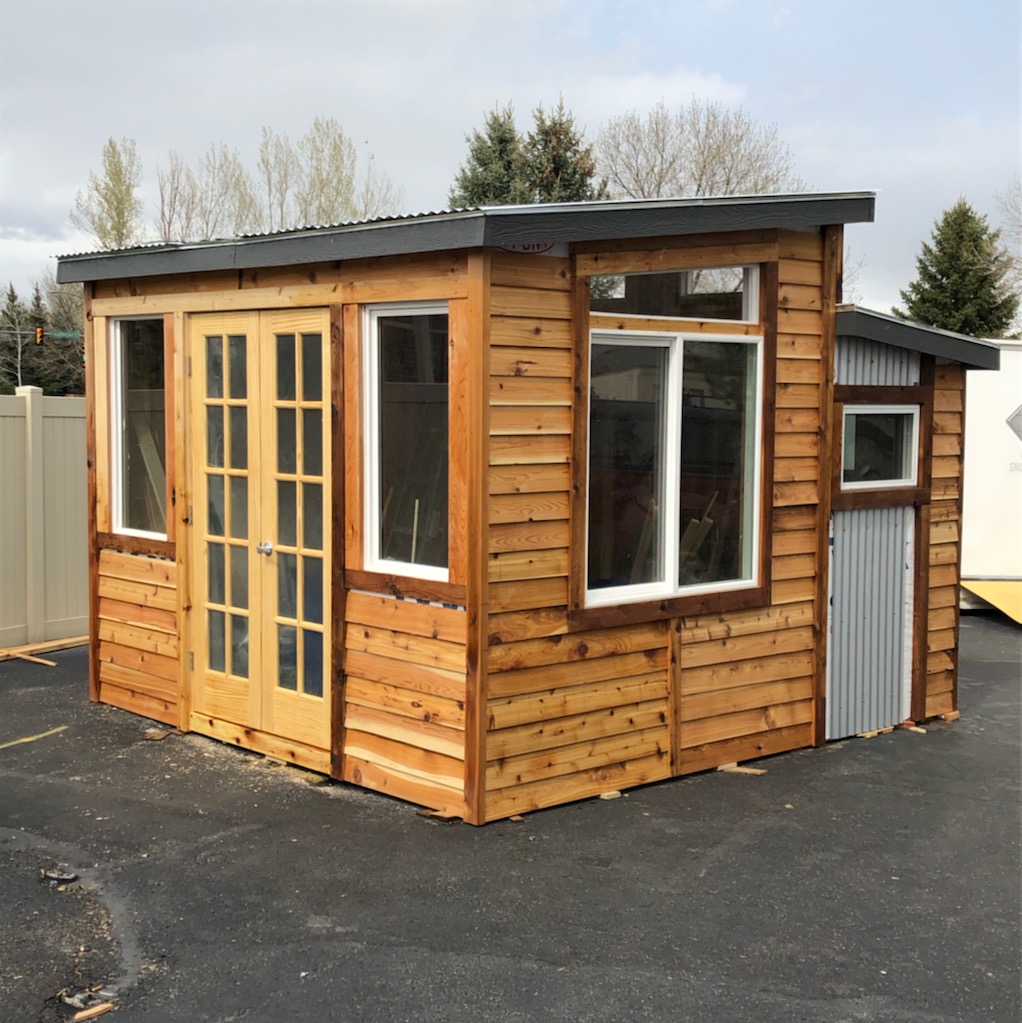 Since 2017, Front Range Community College's Architectural Engineering and Construction Technology class has been designing and building gorgeous sheds to sell at the Habitat ReStore. This STEM Learning opportunity has had a great impact on the class each year.
"This partnership motivates students in a way that I can't describe. Because they know the impact that this will have on Habitat's ability to serve more families, the students are out here during their off time, on the weekends–putting in extra time to get it done, and as an instructor that makes me very proud."
Jamie Hahn, Instructor
In previous years, students were given parameters for their design to ensure that it fit city code and wouldn't require additional permitting, but they were also given creative room to customize their designs before presenting their ideas to the Habitat staff. After giving feedback, the staff chose one design to move forward with, which was completed on-site at Front Range and sold at the Fort Collins ReStore.
However, as word of this project has spread, custom shed-seekers from the Fort Collins community have been reaching out hoping that they can serve as the client, with their full purchase price still benefiting Habitat. The 2019 partnership was the first experiment with this model, and it has been deemed a win-win for both Front Range and Habitat. The students were still able to work with a real-life client who set design and size expectations. Habitat still received 100% of the funds from the sale, but didn't have to move and set up the shed at the ReStore, nor needed to market the shed to find the right buyer.
"This really is an excellent opportunity for students to get real-world experience working with clients and building to a sellable standard. Not only do they get to learn and apply construction and design skills, but the implementation of those skills will result in a positive ripple effect when Habitat sells the shed to raise funds for their work," said Jaime Hahn, Program Director.
Former student Ann-Helen Wirtz was similarly excited about the opportunity. Her design was selected as the shed model for 2018. "[The Habitat parntership] provides extra motivation to build something great. It was a challenge to design something dynamic that any buyer could use for whatever purpose they wanted, but I hoped this allowed for a greater customer base and, in turn, funds raised for Habitat," she said.
With the success of this program, other community colleges and universities are looking to create a similar partnership. Colorado State University is one of the schools looking to adopt this model for its Construction Management students. Even other departments within Front Range, such as the Interior Design school, are creating partnerships with the Fort Collins affiliate.
"We're thrilled to have such wonderful support from our local students," Kristin Candella, Fort Collins Habitat Executive Director and CEO, said. "We are always looking for ways to increase our reach through educational opportunities, and the fact that this partnership also helps to raise funds for our mission makes it very unique and impactful."
To learn more about Habitat's partnership with Front Range, please contact Alex at 970-488-2609.