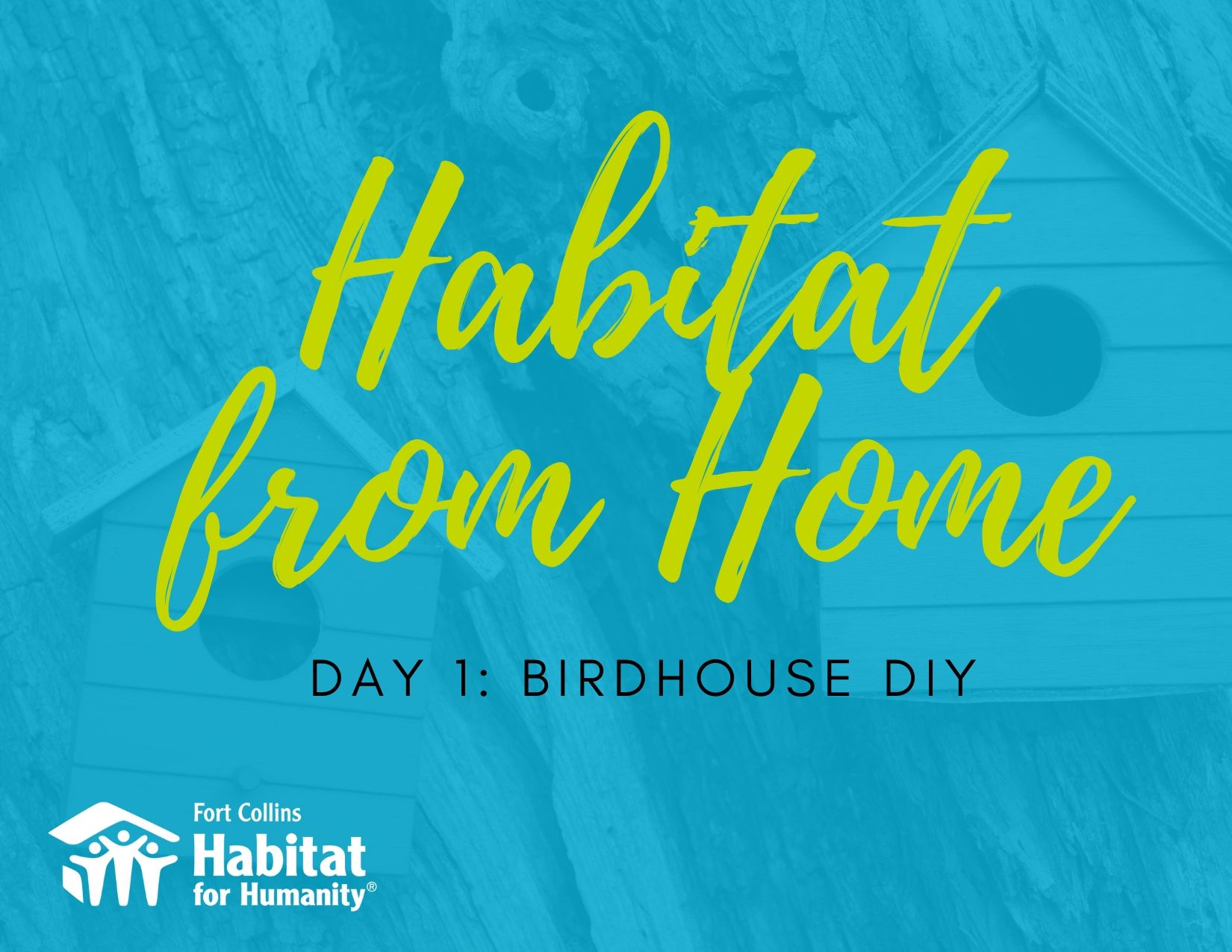 Birdhouse DIY:
Hello! Welcome to our "Habitat from Home" project series, where we offer fun and family-friendly ways to connect children to the mission of Fort Collins Habitat for Humanity. Today's project shows the importance of HOME as it applies to our feathered neighbors–local birds! You will work as a family to build a birdhouse, making connections to Habitat along the way. 
Age Recommendation: Appropriate for all ages! Difficulty can be adapted if necessary. 
Love this project? We'd love to see your photos and finished products! Please connect with us on Facebook, or email them to Alex for a chance to be featured on our social media or website. 
Project Directions: 
Before you begin construction on your DIY Birdhouses, make sure you settle on a plan (online plans below) and prepare your space so that it's safe and clean. If you plan to use tools, make sure that you are wearing protective equipment such as safety glasses. Adults or capable teens should be the only people using power tools, box cutters, etc.  
Collect all of the materials you need for your birdhouse based on the plan you choose. 

Before you begin, think about ways that your project will help local birds. 

What size and features do we need to consider in order to make sure it's a good home for local birds?

Follow the instructions on the plan to build your birdhouse. 

Parents/Guardians of little ones: 

This is a great opportunity to teach about the different tools you are using and what they do. 

Optional (but fun!): Decorate the outside of your birdhouse with paint, buttons, stickers, etc.

Decide where to put your birdhouse, and make sure it is secured safely.

Reflection questions:

What does our (human) home mean to us?

Do we feel safe here? Are we protected from the weather? Do we eat, play, and grow here? 

How will this birdhouse help provide some of those same things for a family of birds?
Some local birds, like swallows, will find a safe place to make their nest and return year after year because it's a stable home. What do you think it means to have a stable home?
Habitat for Humanity is an organization that helps to build homes alongside families (who buy the home when it's done.) The stability that comes with owning your own home means that they can grow and be healthy and happy in their house. We use volunteers (300-400 per house) to build our Habitat homes, just like you gave your time to help build a house for a bird family. Thank you!
Additional resources: Want to take your back yard to the next level? You can support birds and pollinators with your landscaping! Fort Collins Habitat is proud to partner with the Audubon Society of the Rockies to help make our Harmony Cottages neighborhood a "Habitat Hero" community. You can learn more about the Habitat Hero program, and how you can make your own yard more bird and pollinator-friendly by checking out their website.  
Online Plans:
We've collected some great birdhouse plans from different online sources. Decide which birdhouse plan best suits your family's ability level and supplies on hand. Don't forget, a coat of paint or decorations can make this an extra special home for your feathered friends!