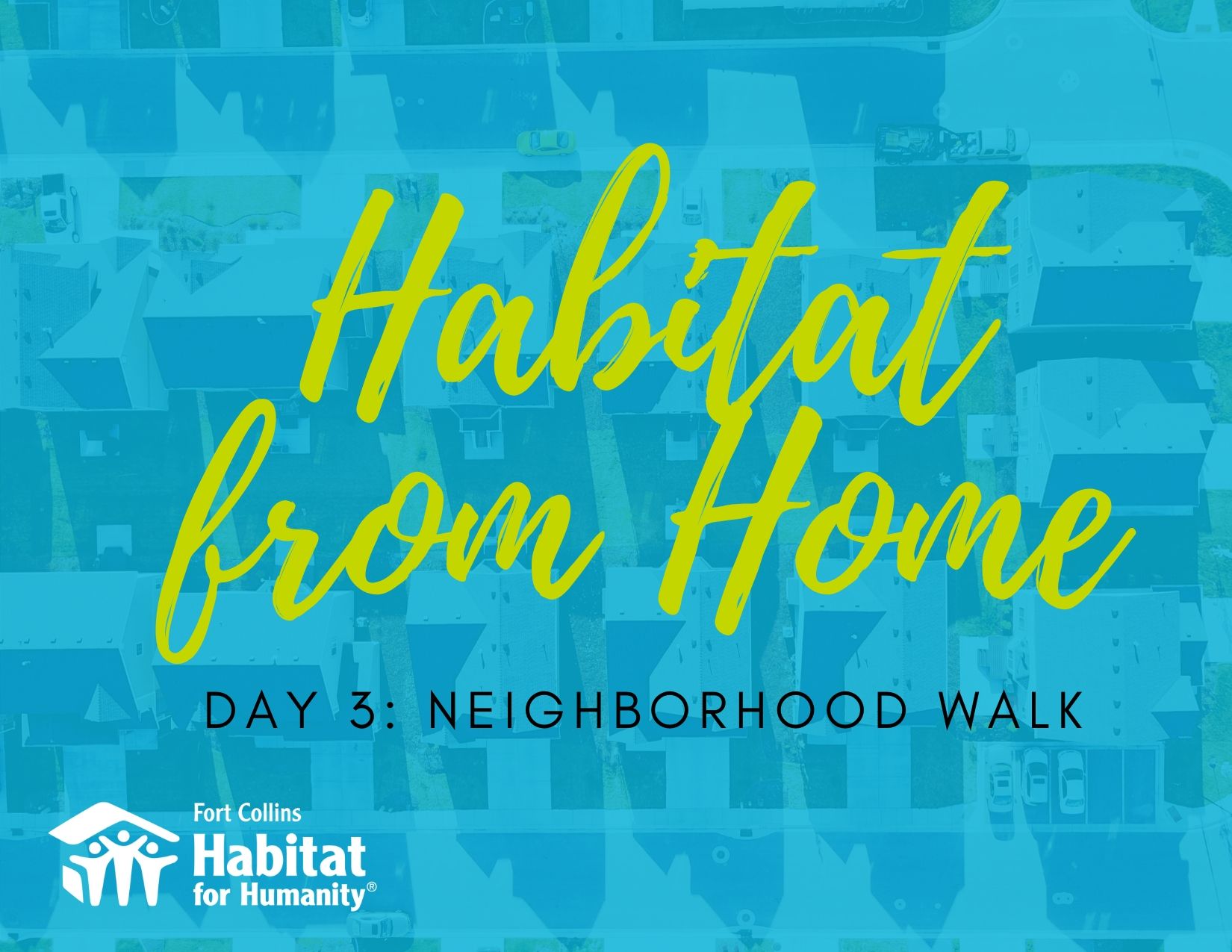 Neighborhood Walk Activity:
Hello! Welcome to our "Habitat from Home" project series, where we offer fun and family-friendly ways to connect children to the mission of Fort Collins Habitat for Humanity. Today's project will get you outside for a little while, taking note of all of the things that make up a neighborhood (and therefore, your community!)
Age Recommendation: Appropriate for all ages! Difficulty can be adapted if necessary.
Love this project? We'd love to see your photos and finished products! Please connect with us on Facebook, or email them to Alex for a chance to be featured on our social media or website. 
Project Directions: 
What makes a neighborhood? In this activity, we encourage you to think about all of the factors that make up a community, even just a few blocks outside your door. This is a great way to get some fresh air and really open your eyes to all of the ways that a neighborhood supports the success and stability of the families that live there.
Print off the neighborhood walk checklist found below.

There are two different lists, so you can either compete as teams to see who can find the most items, or work together!
Be sure to bring something to write with, so you can check off the boxes! It might be easier to write on a clipboard or hard-covered book if you have one handy!

Put on your walking shoes! Head out the door and go for a walk, keeping track of all of the things you see on the list.
Reflections:

As you see certain items, think about the stability or safety that comes with having those things in your neighborhood.

Ex: If you see a fire hydrant, that means that if there was a fire, firefighters could have faster access to water to help put it out.

How do these things help build community?

Ex: Usually, parks and playgrounds allow neighbors to gather and meet new people.

How do these things help people feel a sense of identity?

Ex: What sorts of flags, yard ornaments, etc. do you see? How can these things tell you more about the family inside?
Additional resources: Want to brighten the day of others out on a walk? Put your art skills to good use by drawing pictures or writing positive messages on the sidewalk with chalk. Bonus points if you use your chalk to create an activity that others can do!
Online Resource:
We've uploaded our neighborhood checklist for you below. Check it out!